Episodes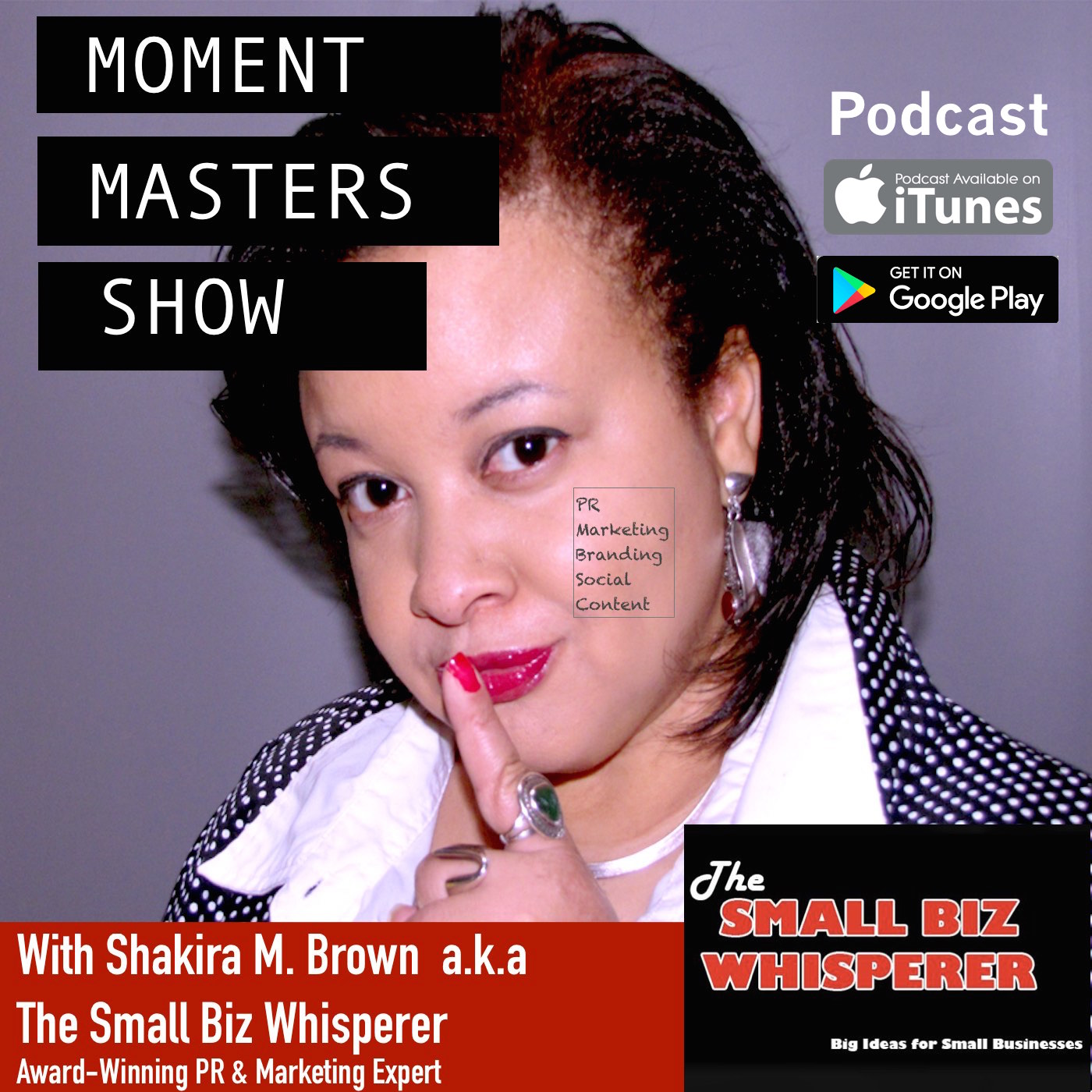 Sunday Jul 09, 2017
Sunday Jul 09, 2017
The official Moment Masters One Year Anniversary episode! Shakira Brown a.k.a The Small Biz Whisperer shares interviews with celebrities and business gurus that she gathered in May 2017 while attending the Entrepreneur's Summit in Houston hosted by Black Enterprise (BE) magazine. Shakira was there as an BE contributor and a member of invited press.
Shakira brings you some of the top speakers from this annual event which was jammed packed with star power, enlightening panels, and multiple breakout sessions that empowered attendees with the tools and knowledge to take their businesses to the next level. In this episode you will hear from:
Brandon Andrews (@brandontalks), Senior Consultant with Value Partnerships who works on Casting for Shark Tank and Steve Harvey's Funderdome. Hear my interview with Brandon to for a few tips on how to prepare to be on business competition shows.
 Melinda Emerson a.k.a. The Small Biz Lady (@SmallBizLady) who shared "A good idea is still a good idea three weeks from now, you need to do some research to see if there is a market for your idea."
Lisa Ascolese a.k.a. The Inventress (@LisaAscolese) who shared when it comes to taking your invention to market that "It is very important to have access to capital because as you know NOTHING is for free"
Ramon Ray (@ramonray)  Entrepreneur , journalist and founder of Smart Hustle magazine shares that one key component to personal branding that is good for any business is happiness "Too many people do not exude with happiness"
This episode also includes excerpts from Ray's BE Summit presentation on personal branding that you definitely don't want to miss.
Plus, listen to the end for a BONUS interview with a well-known celebrity entrepreneur who is also a FIVE-time Grammy award winning songtress that you don't want to miss.
Whether you are running a business now or planning to this episode has solid advice that you can follow at any stage.
Show Notes
Need to clarify your message or personal brand? Sign-Up for Private Brand Coaching for Your Small Business with Shakira M. Brown The Small Biz Whisperer

Check out this Websites: http://njprexpert.com
Follow Me on Twitter: @SmallBizWhisper
Subscribe to this Podcast in iTunes (please leave a review if you like what you hear!)
Subscribe to this Podcast in Google Play
Subscribe to this Podcast in Stitcher 
Connect with Moment Masters Show Guests:
Ramon Ray
Bio - http://www.ramonray.com/about-ramon 
Smart Hustle Magazine www.smarthustle.com and www.smarthustlecommunity.com
YourSizzleVideo.com – 60-90 second video production for small business blogs for only $149 – Check it out!
Twitter @RamonRay 
-------
Lisa Ascolese – The Inventress
Bio - https://www.aowie.com/about-aowie 
Check out her website at www.Inventingatoz.com 
-------
Melinda Emerson
Bio -  http://succeedasyourownboss.com/about/ 
SmallBizlady.com – Check out her blog!
Twitter and Facebook @smallbizlady
 Check out Melinda's books - 
Brandon Andrews
Bio - http://valuespartnerships.com/brandon-andrews/
Twitter @brandontalk 
Yolanda Adams
http://yolandaadamslive.com/v2/
http://www.yolandaadamscoffee.com/
Be a guest on Moment Masters Show
- email podcast@momentmasters.com