Episodes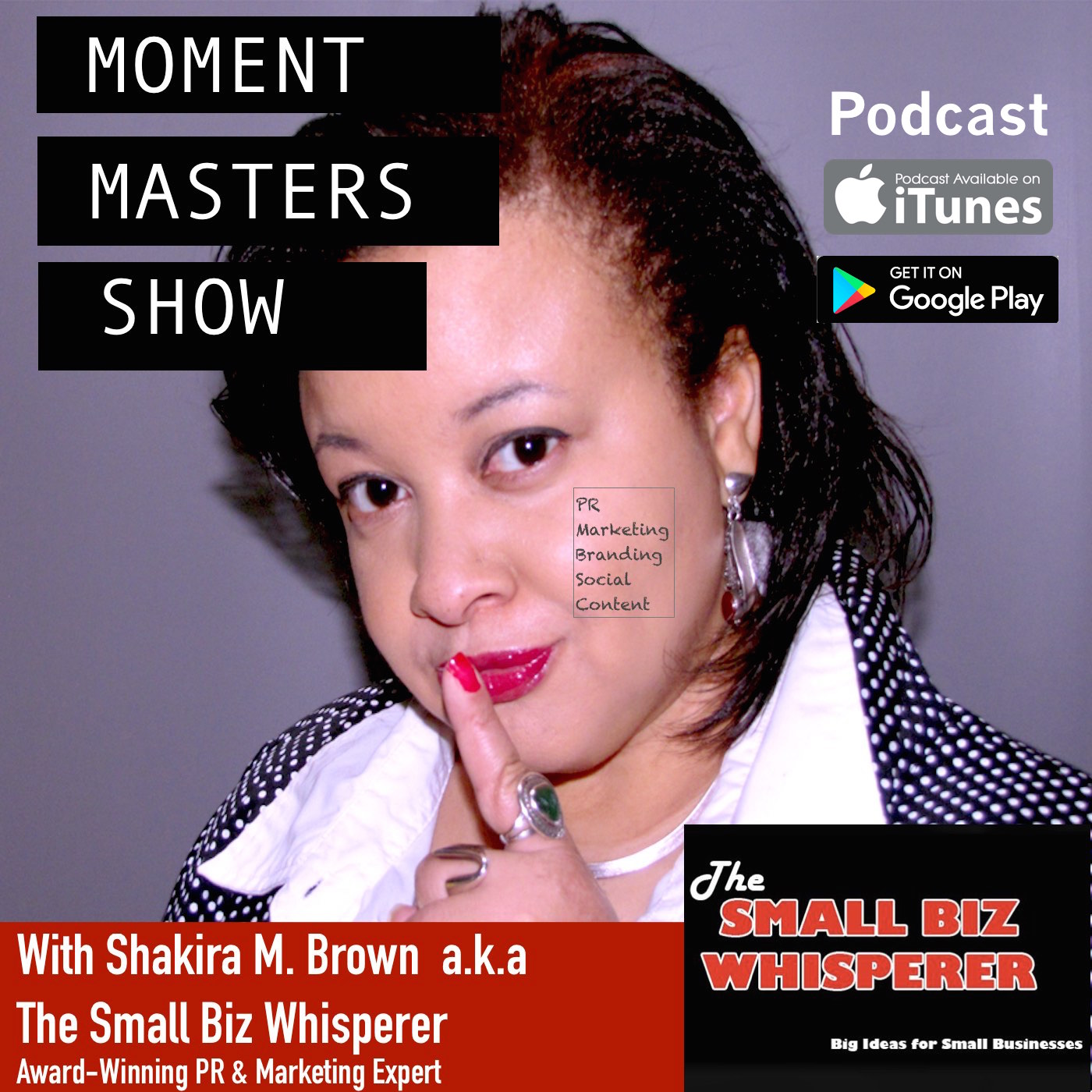 Thursday Jun 15, 2017
Thursday Jun 15, 2017
In episode 31 of the Moment Masters Show host Shakira M. Brown a.k.a The Small Biz Whisperer go in-depth on branding with advertising and branding genius Robert A.B. Sawyer. Sawyer who has over 30 year of experience branding and developing marketing strategies for businesses of all sizes across a myriad of industries thoughtfully reminds us that branding is not defined by the business but more so by its customers. His impressive background in the world of advertising and branding includes working with some of the leading advertising firms in the world including Ogilvy Mather, R/GA • Saatchi & Saatchi Young & Rubicam and Ziccardi and Partners. The brands he has helped shape include American Express, AT&T, DHL Asia, Hitachi, OTIS and Pepsi Cola Company, among man others. He is also a published author of two books: Kiss and Sell Wriitng for Advertising Redesigned and Rekissed  and American Lullaby.
Sawyer says "When we are talking about the process of building its about building value and the first step is to begin internally. It is important for all employees to have the same point of view no matter how many employees you have it. He says everyone must be on message or stay on brand." Our discussion goes quite deep and by the end of listening to this episode you will have a clear understanding of what branding is and most importantly understand why you must view your business as something fluid and dynamic that must be continuously monitored. Sawyer warns that you can't do that if you are not certain what your business actually is. 
Plus, find out why branding is as granular as the quality of the type of promotional items you hand out to prospects and why Sawyer believes that having a feeling of insecurity in business is not as bad as you may think.
Show Notes
Sign-Up for Private Brand Coaching for Your Small Business with The Small Biz Whisperer

Check out this Websites: http://njprexpert.com
Follow Me on Twitter: @SmallBizWhisper
Subscribe to this Podcast in iTunes (please leave a review if you like what you hear!)
Subscribe to this Podcast in Google Play
Subscribe to this Podcast in Stitcher 
Interview Notes:
Find Robert Sawyer on Linkedin - https://www.linkedin.com/in/rwordplay/
Check out Robert Sawyer's website - http://rwordplay.com/
Pick up Robert's Books 
Kiss and Sell Writing for Advertising Redesigned and Rekissed  (an amazing book that unwraps some leading ad campaigns over the years. Use it to leand and for ideas.
Be a guest on Moment Masters Show
- email podcast@momentmasters.com